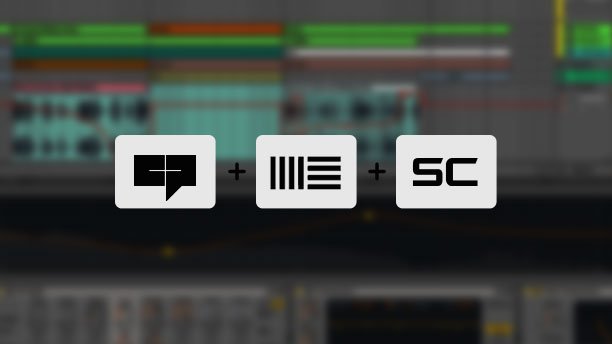 Konkrete Breaks
Client:
Sonic Couture / Ableton
Brief:
Konkrete Breaks is sample-based software instrument by Soniccouture, that was developed in collaboration with Ableton for the release of their Live 9 music software. I was commissioned to produce a set of live clips, showcasing the power and depth of the Konkrete Breaks instrument. It is distributed as a free downloadable Live pack.
A handful of artists, including me, were selected from our label, Concrete Plastic.
The Crystal
Brief:
The Crystal is an exhibiton based on the Thames, about the world's growing population and how to create sustainable urban environments for the future. Working with Crush Creative, I was commissioned to create the sound design to enhance the infographic animation.
For more info, please visit The Crystal web site.
Merits of Mischief
Brief:
Merits of Mischief: The Bad Apple is the start of a fun and hilarious new middle-grade series that has trouble written all over it.
Tiger's Voyage
Brief:
In this third instalment of the Tiger series, Kelsey and Kishan search for the third magical gift, a powerful object that causes them to live part of their lives as Tigers.
False Prince
Brief:
To avert civil war, three orphans compete in a treacherous plan to impersonate the lost prince.  But that's only the beginning of the lies.  The biggest one could be fatal.
This is short piece of sound design for the False Prince book trailer. A climatic build up of horse and cart recordings was required to add tension.
Blood Red Road
Brief:
Set in a wild, scorching and lawless land Blood Red Road is an addictive dystopian thriller about Saba's epic quest to rescue her twin brother.
To compliment the barren, sparse feel of the visuals, I went with a native indian theme to the backing track with flute flourishes and animal skin drums.
Red King
Brief:
In the climactic final battle between good and evil, Charlie Bone finally discovers the truth about the Red King, and the key to his own past.
Toy wind chimes and recordings of ravens and crows where used to give this trailer a magical yet dark atmosphere.
The Undead
Brief:
Zombies run amok in this book trailer for the new Chickenhouse teen horror-fest, 'The Undead'.
Location recording in a local woodland was required to get the right feel and pace of running frantically through the undergrowth.
One Voice
Brief:
One Voice is a specially commissioned video from the Tearfund organisation. Its aim; to encourage people around the world to pray more regularly.
I composed the soundtrack from scratch to give the visuals and ethereal quality. Each 'prayer', denoted by a shape and colour, is accompanied by a corresponding tone, creating melodic progression through the piece.
Tiger's Curse
Client:
Sterling Publishing USA
Brief:
This is a trailer for the novel 'Tigers Curse', the story of a young girl whose life is changed forever when she encounters a mysterious tiger as she starts work for the circus.
Six Days
Brief:
A dark and forboding story of the search for a lost relic.
Inspiration was drawn from Terminator and John Carpenter films to create a sci-fi based composition to this animation. Additional atmosphere was created with cinematic booms, short wave radio interference and rifling though junk metal amongst others.
Havoc
Brief:
This is a trailer for the first in the series of innovative Graphic Novels, set in a frightening and exciting alternative world, where Tall Jake resides and plots to take over ours!
Sound design involved voice overs, train recordings, wind and stings to create atmosphere.
Clockwork Three
Brief:
This video is a trailer for the novel 'Clockwork Three', a dramatic tale of an orphaned street musician, an enchanted violin and an incredible adventure!
The visuals required sounds such as pulleys, clocks, cogs and gears, steam hissing and roling heavy metal objects to create the feel of the industrial revolution era.
Plain Kate
Brief:
'Plain Kate' is the story of a carpenter's daughter who sells her shadow to a mysterious stranger, and a world of adventure opens to her.

Effects such as rusty hinges, rustling leaves and wind were added to create atmosphere.
Reckless
Brief:
This is a trailer for a book titled Reckless by Cornelia Funke, a popular children's fiction author.
I composed an orchestral soundtrack and blended atmospheric drones and textures to create a rather haunting end result! Sound design involved creating monster roars, battlefield fighting effects and more.
Also see here for an alternate version of the trailer.
Jamie Johnston
Brief:
Jamie Johnston is a young lad with aspirations of becoming a professional footballer. The look and feel of the trailer was a light-hearted reference to a shelf on Jamie's bedroom wall.
I composed a carnival themed backing track and sourced various sound effects to enhance the animation and create added pace.
Triskellion
Format:
TV (Nickelodeon) and Web site
Brief:
This is a short TV ad for the book titled 'Triskellion'. The theme was sci-fi crossed with cult 'Wickerman' style undertones.
I sourced the sounds and combined them with eerie textures and pads to produce a fast-paced, tense and atmospheric trailer.